​Bundling of products is a good way to increase your store's profit by selling sets of products for a lower price. You no longer need to create separate bundle products but add a bundle offer as additional options to a product on the same page view with the rest of options.

For instance, you sell a camera and want to create a bundle offer that includes a case, a memory and warranty. The Dynamic Product Options extension for Magento 2 allows to associate options to other products.

The extension provides you with creating your own bundle products by associating custom options to existing products with your store. If you need to set lower prices for a bulk purchase, you can easily set tier prices for each option. Customers will see the following message on the Frontend "

Buy 3 for $19.99 each".

If a customer has chosen the option from a bundle offer, the associated product's inventory will be deducted on checkout. Therefore, the module will definitely help to manage the inventory.

​

Please pay attention to the

screenshots

below:
Powered by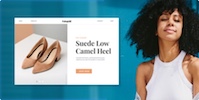 Create your own unique website with customizable templates.